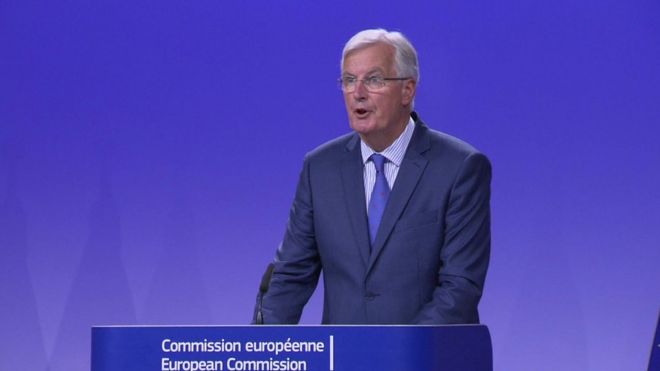 Europe's chief Brexit negotiator Michel Barnier says there has been "no decisive progress" on key issues in talks with the UK....
He said negotiations were still "quite far" away from being in a position to begin talks on future trade arrangements.

He also said there were issues of "trust" between the two sides.

But UK Brexit Secretary David Davis urged the EU to be "more imaginative and flexible" in its approach.

During a joint press conference in Brussels, Mr Barnier acknowledged there had been some "fruitful" discussions on the issues surrounding the relationship between the Republic of Ireland and Ulster, but he struck a pessimistic tone overall following the latest round of Brexit negotiations in Brussels.

"We did not get any decisive progress on any of the principal subjects," he said.

The UK wants to begin trade talks as soon as possible, but Brussels insists that discussions about the future relationship after Brexit can only begin once "sufficient progress" has been made on the arrangements for withdrawal - including on the so-called "divorce fee".

Mr Barnier said: "At the current state of progress we are quite far from being able to say that sufficient progress has taken place, sufficient for me to be able to recommend to the European Council that it engage in discussions on the future relationship between the UK and EU at the same time as we would, during the course of 2018, go on working on finalising the exit and withdrawal agreement."