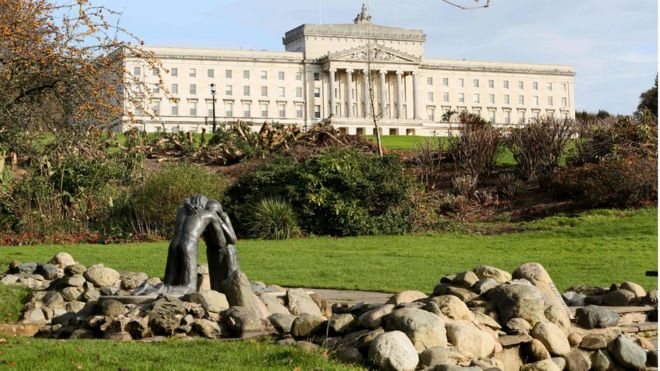 Secretary of State James Brokenshire has extended the deadline for Northern Ireland's two main parties to reach a deal to restore power-sharing.....
The DUP and Sinn Féin resumed talks on Tuesday morning after failing to reach an agreement on Monday night.

Mr Brokenshire said they had made "certain additional requests" of the government which need to be considered.

The BBC understands Sinn Féin has asked the government to release £150m to fund Troubles legacy issues.

Stormont deadlock: What you need to know
Stormont 'soap opera' cannot continue

The money was originally pledged as part of the Fresh Start Agreement in November 2015 but has not yet been released.
During a break from the talks, Sinn Féin's Conor Murphy refused to confirm or deny that funding for legacy issues was under discussion.

He said the party did not want to give details about the inter-party talks as "this is a very key time".
The British and Irish governments reported "progress" on Monday night, prompting Mr Brokenshire to defer the decision on whether to introduce legislation to Parliament.

Earlier the government had said that "significant gaps" remained between Northern Ireland's two main parties.

Northern Ireland has been without a devolved administration since January, after a bitter dispute between the two parties sparked by the handling of a botched green energy scheme.
In spite of several rounds of discussions, a deal to restore devolution has proved elusive, with Sinn Féin's demand for legislation to give official status to the Irish language seen as the main dividing issue.

Without any resolution in sight, the government has warned it will have no choice but to intervene, increasing the prospect of direct rule being imposed.
Pay-cut call

Alliance Party leader Naomi Long said MLAs should face a 30% pay cut if a deal to restore devolution is not done this week.

MLAs have received their full salaries even though the Northern Ireland Assembly has not been operating during the deadlock.
Mrs Long said: "There was a previous assessment that about 70% of what an MLA does is outside the assembly and about 30% is in legislation.

"I think it's about time that the salary was readjusted, at the very least, to reflect that."

The cost of running Stormont in the interim has been controversial, with many commentators calling for MLAs' salaries to be stopped.