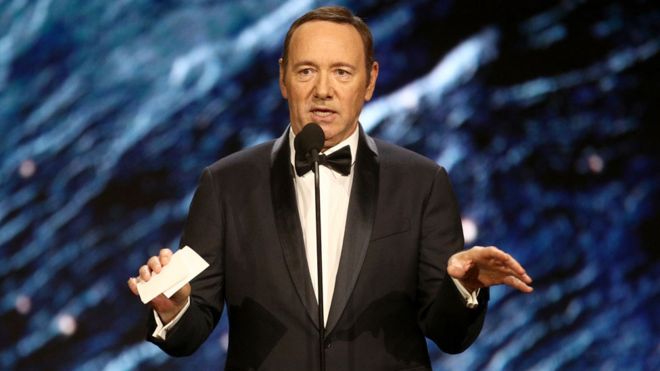 Kevin Spacey has been dropped as the recipient of a special Emmy award he was due to receive next month....
The International TV Academy said in a statement that it was withdrawing the International Emmy Founders Award "in light of recent events".

It comes after actor Anthony Rapp accused Spacey of making a sexual advance 30 years ago.

Responding to the allegations, Spacey said he was "beyond horrified" but did not remember the encounter.

The International Emmy Founders Award, which was due to be presented to Spacey in a ceremony on 20 November, is a special award reserved for those "whose creative accomplishments have contributed in some way to the quality of global television production".
Previous winners include film director Steven Spielberg, Downton Abbey creator Julian Fellowes and X Factor's Simon Cowell.

The International Academy of Television Arts and Sciences, which awards International Emmys, honours programmes that have had their initial broadcast outside of the US. It has a separate awards ceremony to the main Emmys, traditionally held each January.

Netflix has also announced it will end its flagship TV series House of Cards, in which Kevin Spacey stars as ruthless politician Francis Underwood.

Filming is currently under way on the sixth series of the political drama but Netflix confirmed it would be the last.

According to a spokeswoman, the decision had been made months ago but in a statement Netflix said it was "deeply troubled" by the allegations made against Spacey.

Variety magazine is reporting that the streaming giant is instead exploring a House of Cards spin-off - with one possibility revolving around the character Doug Stamper, who plays Francis Underwood's chief of staff.
Spacey has been criticised for his statement responding to allegations made by Rapp, who said Spacey attempted to seduce him after a party in 1986, when he was 14 years old.

Rapp said Spacey had laid down on top of him, adding in an interview with BuzzFeed News: "I was aware that he was trying to get with me sexually."

Spacey said if he had behaved in the way Rapp describes then he owes him "the sincerest apology" and that he was "sorry for the feelings [Rapp] describes having carried with him all these years".

He went on to publicly announce he was gay.

Among the latest to criticise the actor's decision to come out are US film star Zachary Quinto and British film and theatre director Sean Mathias.

Star Trek actor Zachary Quinto called Spacey's timing "a calculated manipulation to deflect attention from the very serious accusation" of assault.
Theatre and film director Sean Mathias told BBC Radio 4's Today programme that coming out should be something to "celebrate".

"Kevin Spacey coming out is very untimely," he said. "I don't think coming out when he's been accused of something else is the right thing to do. Because you're gay doesn't mean you want to sleep with children and in some people's minds this will be heightened."

The director of play No Man's Land went on to claim he too had been the victim of sexual harassment, saying he had been "coerced" into a sexual act by a "powerful" man in the industry in the early days of his career.
'Not predatory behaviour'

The Old Vic has also responded to the allegation made against Spacey, who was the artistic director there from 2003 to 2015.

A spokeswoman for the London theatre said: "During Kevin Spacey's tenure as artistic director no complaints were made against him. No complaints have been made since he left."

Meanwhile Kim Richards, the chief executive and chairman of Allied Artists International - a major film and television production company - has defended Spacey.

He tweeted his support of the Usual Suspects actor following the claims of harassment saying: "If true, acting on impulse while inebriated speaks to over-indulgence, not predatory behaviour. You're good & decent, deserving forgiveness."